HyperFormance Street and Drag Cylinders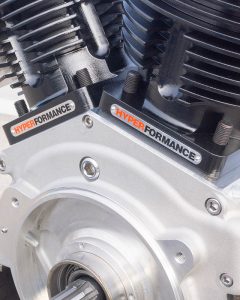 The attributes of Dimensional Stability, High Tensile Strength and Durability are legendary. Our Big Jugs™ are machined from pure Ductile Iron Durabar®, not pre-castings, so they could accurately be called Billet Ductile Iron! In addition to our ductile iron Big Jugs™ for Evos, we also offer ductile iron jugs for Knuckleheads, Pans, and Shovels (uses base studs and head bolts) featuring machined fins, stock oiling plus 3 times the strength of original cylinders. Big Jugs™ can be ordered as complete kits with Hytech™ pistons, rings, teflon buttons, Viton O-ring head gaskets, and high tensile strength studs, bolts, and nuts.
---
R&R heads are simply the best!
Keeping up with the Ronzellos is not for sissies! This family is nuclear powered! In a mere 5 years what began as a father-son hobby of souping up Jr.s' Sporty, has evolved from Dynos in the garage and a machine shop in the basement, into a large, bustling business (R&R Cycle) with CNC milling stations cranking out 300+ cylinder heads a month! Reggie Sr. is recognized by performance industry leaders as a top expert in engine performance theory specializing in port flow.
With 100s of hours studying (and re-writing computer programs and code), 100s of hours flowbench testing, over 3,000 dyno runs, Reggie knows his stuff! Period! Every R&R head he produces is CNC ported to meet the specific requirements for a particular application utilizing Reggie's proprietary Cross Sectional Flow Analysis. So every R&R head has the PERFECT match of port volume and shape to meet the SPECIFIC appetite of the engine it will feed. The result is unparalleled volumetric efficiency (MAJOR torque AND throttle response)—an engine that pulls hard and loves to rev! R&R heads are simply the best!
One small but amazing benefit is that your bike with R&R heads and reasonably close jetting and timing, will require absolutely NO choke to start and idle smoothly when stone cold. During a recent visit with Reggie, this writer witnessed this demonstrated with several R&R equipped bikes. Amazing! Reggie explains that the reason that most engines require an overly rich mixture (choke on) is due to lousy port design/performance! Anyone who has ever struggled with firing up a cold-blooded bike can relate! So not only do you get more power out of your ride, but it will be less temperamental and easier to start! Very cool!
---
Top End & Valvetrain:
| Part Description |   | Part Number | Retail Price |
| --- | --- | --- | --- |
| R&R Hi-Torq Billet Heads | Stock Bolt Configuration | 17-0068 | $2,450.00 |
| R&R Hi-Torq Billet Heads | 4″ Bore Bolt Configuration | 17-0070 | $2,450.00 |
| R&R Hi-Torq Radius Billet Heads | | 17-0170 | $2,750.00 |
| R&R Hi-Torq Oval Port Radius Billet Heads | | 17-0215 | $2,750.00 |
| R&R Twin Cam Casts Heads | (Stock H-D Bold Pattern) | 17-1001 | $1,850.00 |
| R&R T.C. Style Hi-Torq Radius Billet Heads | | 18-0068 | $2,750.00 |
| | | | |
| Pocket Port Heads | Includes assembly | 17-1002 | $450.00 |
| Stage 2½ CNC Porting | | 17-1003 | $1,050.00 |
| Stage 3 CNC Porting |  requires T/B | 17-1004 | $1,300.00 |
| Stage 4 CNC Porting | | 17-1005 | $1,500.00 |
Includes combustion chamber volume machining and assembly